Canada designed and delivered the International C3E Awards program in 2018-2019 with support from other C3E International members and Women in Renewable Energy (WiRE), a non-profit organization working to advance women in the energy sector with expertise in delivering women of distinction awards.
In May 2019, Canada and WiRE presented the inaugural International C3E Awards at the CEM10/MI-4 Ministerial in Vancouver. Two awards were presented during the Women in Clean Energy Breakfast:
C3E International Woman of Distinction Award: The C3E International Woman of Distinction Award recognizes and celebrates a professional woman working in the energy sector who goes beyond 'business-as-usual'.
C3E International Organizational Leadership Award: The C3E International Organizational Leadership Award recognizes an organization that has taken actions to recruit, develop, and retain women within the clean energy sector. This award is open to public, private, and non-profit organizations.
C3E Women of Distinction Award 2019
Winner: Dr. Elbia Gannoum, CEO, Brazilian Wind Energy Association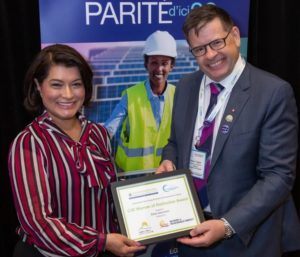 Over the last 20 years, Dr. Gannoum has made a significant contribution to the Brazilian energy sector through her work in the public and private sectors. Since completing her PhD in Production Engineering in 2003, Dr. Gannoum has played an active role in the transformation of the Brazilian electricity sector. Dr. Gannoum has served as Chief Economist of the Ministry of Mines and Energy, as Director of the Chamber of Electric Energy Commercialization, and now as President and CEO of the Brazilian Wind Energy Association.
Since taking the leadership of the Association in 2011, Dr. Gannoum has overseen the rapid expansion of wind energy in Brazil, with wind energy now making up the second largest source of electricity in Brazil, behind hydropower. The many glowing letters of support that were submitted as part of Dr. Gannoum's candidacy for this award highlighted her technical and professional accomplishments, in addition to the personal qualities of leadership and determination which have helped her advance throughout her career.
In addition to her leadership on clean energy development in Brazil, Dr. Gannoum has been a tireless advocate for women in the energy sector, and serves as a role model for women in Brazil and indeed around the world.
C3E Organizational Leadership Award 2019
Winner: PEG Africa, an off-grid solar company in West Africa.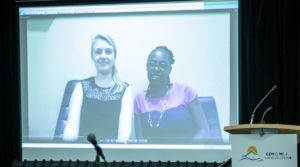 PEG Africa is an off-grid solar energy company with offices in Ghana, Côte d'Ivoire, and Senegal. PEG Africa has quickly become a force in the West African energy sector. They employ over 450 full time staff, and 550 commission based agents across the three countries. PEG has demonstrated a commitment to the values of gender equality and inclusion, and have made great strides towards these goals within their organization.
In 2017, during a period of rapid growth, PEG Ghana recognized that their management team was not reflective of their employees or their customers, as the leadership was primarily men from outside of Ghana. At the time, women made up only 22% of PEG's leadership. Working with Engineers without Borders Canada, PEG hired their first Gender Projects Officer, to conduct a gender audit. Based on the gender projects officer's findings, PEG created a "Gender Action Plan", which recommended strategies including a mentorship program, flexible working conditions, and updated policies on health insurance and family leave.
Eighteen months after the initial recognition for the need of diversified leadership, PEG Ghana doubled the number of women in leadership roles. Since then, they have seen a marked reduction in employee turnover, a 24% reduction in the gender pay gap, significant uptake of flexible working opportunities, and the advancement of talented women up the corporate ladder. PEG Africa's story is an excellent illustration of the business case for gender diversity in the workplace, and shows us why investing in equality pays off.