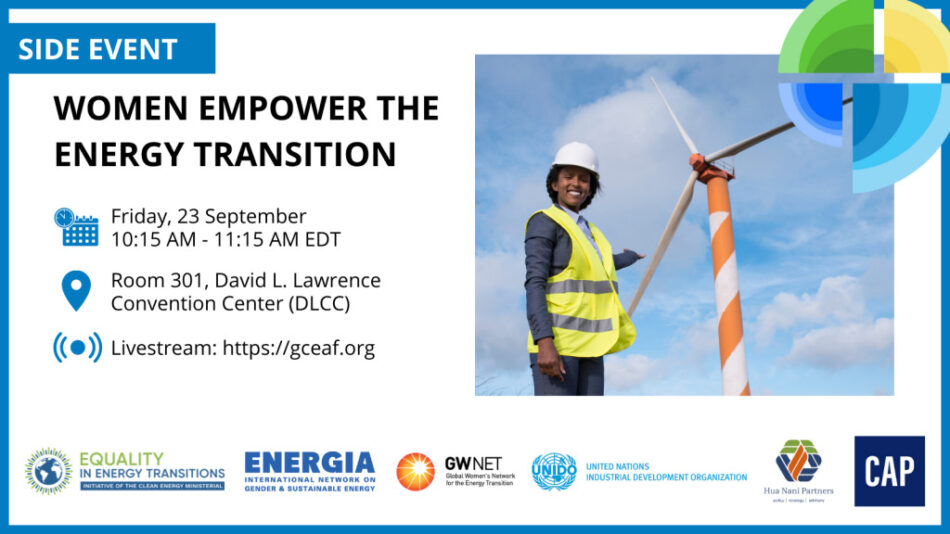 The first Global Clean Energy Action Forum (GCEAF), a joint convening of the 13th Clean Energy Ministerial and the 7th Mission Innovation ministerial, took place in Pittsburgh, September 21–23, 2022. As part of this major event, the Equality in Energy Transitions co-organized a high-level side event, "Women Empower the Energy Transition", with the Gender and Energy Compact Coalition, Hua Nani Partners, and the Centre for American Progress. This side event was one of only three gender equality-related events at the GCEAF. 
"Women Empower the Energy Transition" brought the expertise and the experiences of a diverse group of inspiring speakers from the governments, private sector, and non-profit and youth organizations together, emphasizing the urgency of empowering the actions, aspirations and voices of women, youth, marginalized and underrepresented communities to drive to a just and inclusive energy transition.
This side event was moderated by Sheila Oparaocha, the Director of ENERGIA International Network on Gender and Sustainable Energy. Oparaocha commenced the event, accentuating that gender equality and empowerment of women and girls are key to a just and inclusive clean energy transition, which ensure energy access. Although women are increasingly active in the energy workforce and as entrepreneurs contributing to economic growth and industrial development, UN Women reported that the majority of energy policies and nationally determined contributions are gender-blind. Consequently, women's (specific) needs, experiences, and knowledges are not yet well-represented in energy policy making and planning.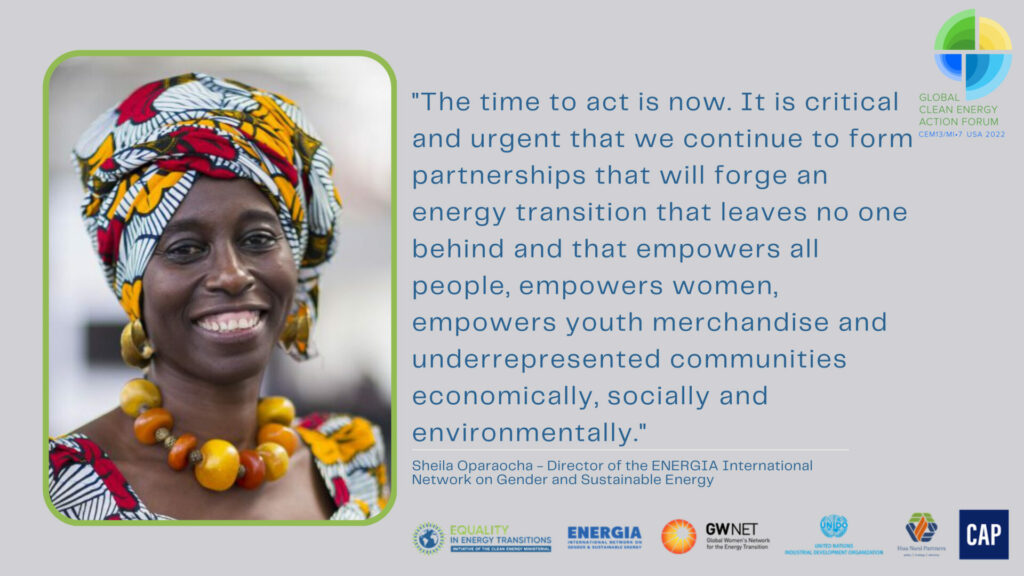 The floor was then given to Mollie Johnson, an Associate Deputy Minister at Natural Resources Canada (the government of Canada), to present her opening remark about the necessity of an equitable and inclusive energy transition. Johnson was pleased to reflect on Canada's championship of inclusivity in the energy transition and its leadership in the Equality Initiative. 
Another keynote speaker of this side event was Paul Nzomo Mbuthi, a Senior Deputy Director of Renewable Energy from the Ministry of Energy, Kenya. Another keynote speaker of this side event was Paul Nzomo Mbuthi, Senior Deputy Director of Renewable Energy from the Ministry of Energy, Kenya. Mbuthi shared the invaluable lessons Kenya has learned over the last years with the audience and brought attention to the importance of context while choosing measures to empower women and advance their participation in the energy transition. He mentioned that millions of women in Sub-Saharan Africa still lack basic access to an affordable, reliable, sustainable, and modern energy, which negatively affects their fundamental human right, as well as their health, livelihood, and local environment. Mbuthi identified innovation and development as solutions to reduce the cost of the existing energy technologies and declared Kenya is committed to reach one hundred percent renewable energy or renewable electricity by 2023, if not earlier.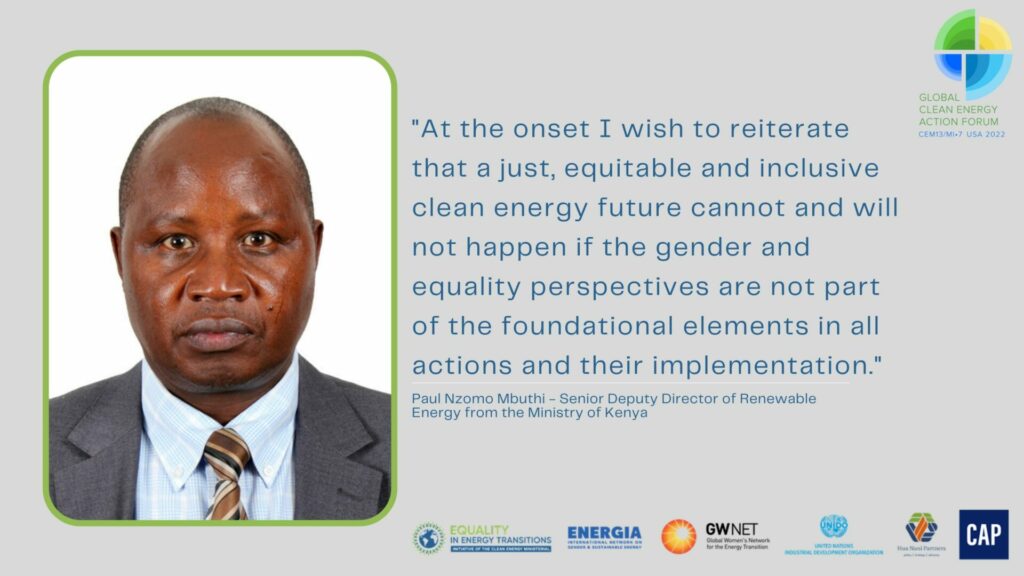 Kirsten Jurich, the Principal of Hua Nani Partners, shared the private sector's perspective. Hua Nani is a woman-owned and woman-founded climate consulting firm that partners with public, private, and philanthropic clients to seed and scale the next generation of climate solutions.
Jurich began her speech by sharing compelling findings from a piece that Hua Nani Partners and the Center for American Progress jointly published earlier this year, profiling the need to uplift women in the clean energy economy
.
She stated,
"women only represent about a third of the renewable energy workforce, and that is in stark contrast to the fact that women make up about half of the workforce overall."
According to Jurich, w
omen's participation and leadership results in a positive outcome when it comes to stronger policies to address climate. The private sector must step up and appoint more women in leadership and C-suite positions.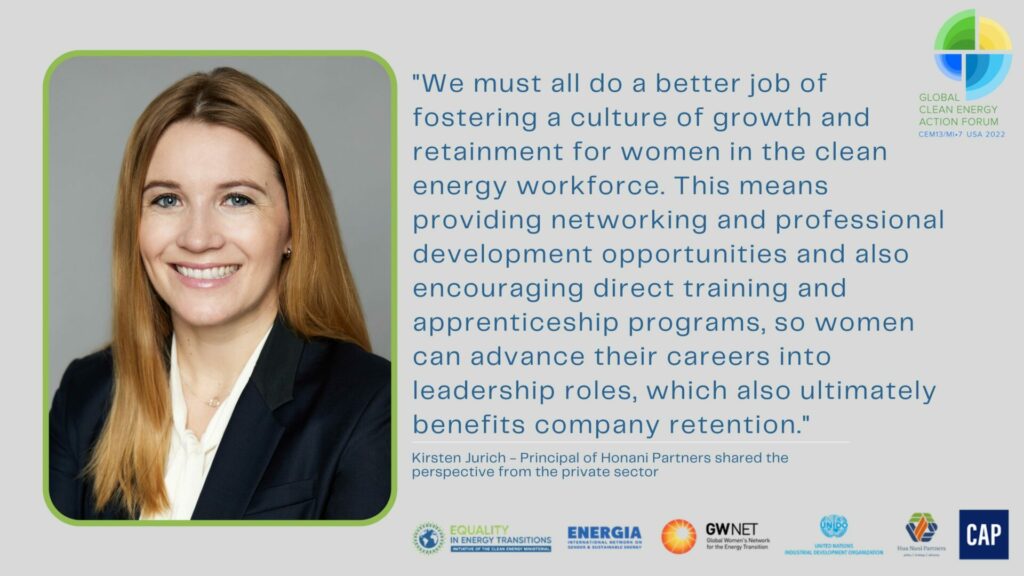 Afterward, the event continued with a panel discussion, during which the panelists exchanged their thoughts and narratives, as well as their organization's commitment and actions to ensure a gender-responsive, just, and inclusive energy transition.
The first panelist was Tareq Emtairah, Director of the Division of Decarbonisation and Sustainable Energy at the United Nations Industrial Development Organization (UNIDO). He indicated that UNIDO is involved in technical assistance and capacity-building projects, particularly in developing countries. The department of energy was set up about 14 years ago to work on the energy transition and support the member states in sub-Saharan Africa and Southeast Asia in the face of energy access challenges for productive use.
They learned that women were underrepresented, and one has to be extremely conscious about it to overcome biases in the delivery of training materials, reach out to the beneficiaries themselves and their communities, and engage with lenders. 
"At least 85% of the technical assistance projects are on target to look at gender parity in terms of access to the right beneficiaries. To get to 100%, one has to be conscious all the time of the socio-economic environment in which we operate with."
Kushla Munro, Head of the Division at the Department of Climate Energy from the government of Australia, talked about the power and influence of having inspirational female role models in the energy sector. Reflecting on her own experiences and professional pathway, Munro said, "You can't be what you don't see!" Moreover, she stated that women's participation in the energy transition is not just their fundamental right, but their perspectives and skills are highly needed in the energy sector, in fact in every area everywhere.
The third panelist, Theresa Vogel, Director of Climate and Energy Fund from the government of Austria, shed light on the importance of the international exchange of good practices and funding. Learning from the experiences and practices of others could save time and resources, as one cannot do everything on their own. As a person responsible for governmental funding in the field of climate and energy, Vogel mentioned that she supports women's participation and encouraged the audience to promote women by saying,
"If you are in the position to support women, then you have to do it."
Furthermore, as an example, she talked about a female-focused Austrian
Talents Program called FEMtech, which is a database of female experts in STEM jobs.
Anne Vasara, Ambassador of Circular Economy and Energy from the Finnish Ministry of Foreign Affairs, was the last panelist to share her insights. She highlighted that Finland has a good track record in general terms when it comes to gender equality, and more than half of the cabinet ministers are women. Nevertheless, women are still underrepresented in the technical and energy sector.
"The energy sector is mostly employing men and the sector has been seen as a male-dominant, old-fashioned area of business and with quite a strong glass ceiling as well." rong glass ceiling as well."
It is a loss of opportunities, talents, innovation, ideas, and human resources.
"Gender equality is one of the cross-cutting factors that we always insist on with all our cooperation activities."
After the inspiring panel discussion, Joanna Osawe, president and CEO of Women in Renewable Energy (WiRE) Canada was invited to the podium to moderate the final segment of the event, the
2022 Equality in Energy Transitions Awards
ceremony. The Awards were brought to you in partnership with Natural Resources Canada and WiRE Canada. The Equality Initiative Awards Program aims to increase awareness about strong women role models and their professional successes on a global stage. Similar to previous years, the third Equality in Energy Transitions Initiative Awards advocate for and highlight established women, as well as organizations, promoting women in the energy sector. However, this year's Awards Program also recognized and celebrated emerging women to inspire and attract more young women to careers in the energy sector and accelerate their advancement into leadership positions.
The 2022 Emerging Leader Award
Winner
Pooja Shah (she/her) is a senior consultant within DNV's energy storage emerging technologies advisory. She is passionate about advancing equity while addressing climate change. Her focus is on developing and implementing innovative and equitable solutions to accelerate the energy transition and decarbonize the energy and transportation industries.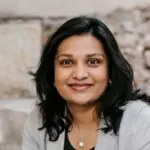 During her acceptance speech, Shah mentioned that growing up in India, she is not unfamiliar with the impacts of climate change and has lived through extreme weather events, poor air quality, and power outages. In 2010 when graduating high school, she experienced extreme temperatures and connected the dots in weather and climate change, as well as the impact it had on low-income households, especially women of color. Shah believes the transition to clean energy must be just and equitable: "I urge you all to continue making gender equity and social justice a priority. And I urge you to continue inspiring more women breaking barriers for them in the clean energy sector, and continue bringing more diverse voices into this conversation because it is critical that we do so right now." 
The 2022 Woman of Distinction Award
Winner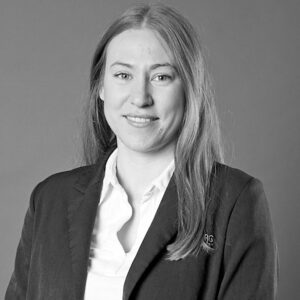 Sam Craft (she/her) started her career by taking up a volunteer administration role in the South Australia start-up National Renewables Group (NRG). In five years, Craft forged her way as a unique and remarkable leader in the renewable energy industry and became the director of energy in one of the largest providers of residential and commercial solar systems in South Australia. Sam is a Board Member of the Smart Energy Council, founding member of Australian Women in Solar Energy (AWISE), an SA Power Networks Solar Industry group representative, and Committee Member for Solar Cutters.
As part of her acceptance speech, Craft said: "To any person looking to make a difference, my advice to you is to talk to a woman in your life, have an open conversation about gender equality and how we can bridge the gap in your workplace and life."
The 2022 Organizational Award
Winner
The Organizational Award, which recognizes an organization that has taken actions to recruit, develop and retain women within the clean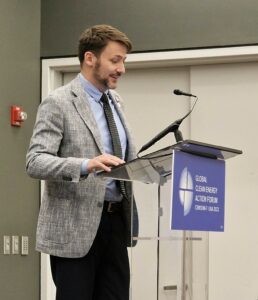 energy sector, was awarded to the Energy Ministry of Chile. The Minister of Energy, Diego Pardow Lorenzo, accepted the award on behalf of the "hardworking civil servants who work at the Ministry of Energy of Chile" striving for gender equality at the Chilean Energy Ministry.
Chile's "Energia + Mujer / Energy + Women" conducted a survey that showed women's participation in leadership positions in the energy sector was only at 10%. Therefore, Chile is "passing legislation that will force corporations to have at least 30% of women on the board – it is not specific to the energy sector, but it includes all the companies that are working in the energy sector." The Chilean Ministry of Energy is also working with both the recently founded Gender and Human Rights Office and the local educational communities to raise awareness about the significance of women's participation in the energy sector.
Finally, Minister Lorenzo took the opportunity to announce that Chile is joining the Equal by 30 campaign of the Equality Initiative.
Watch the "Women Empower the Energy Transition" side event below – Global Clean Energy Action Forum (GCEAF) in Pittsburgh, September 23rd, 10:15 – 11:15 AM EDT (04:15 – 05:15 PM CEST)