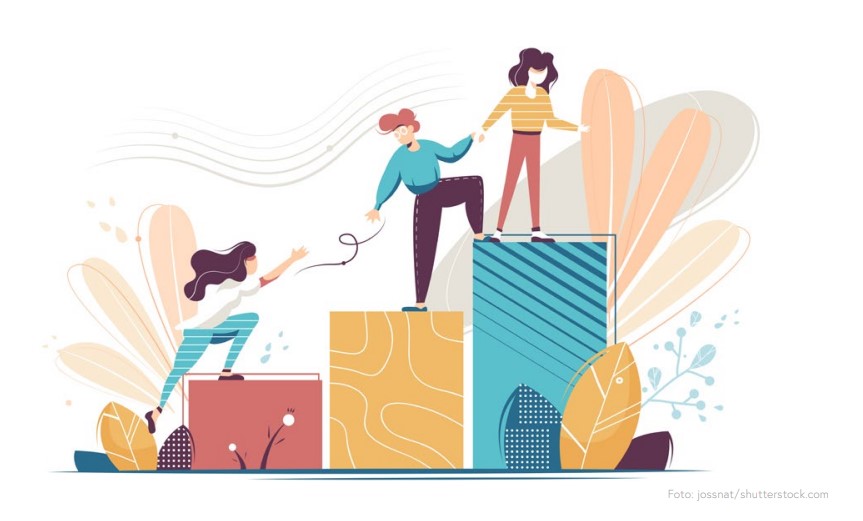 Gender equality in the energy sector
Approaches for the targeted promotion of women in Austria
In the energy sector in Austria, women are even more underrepresented than the international average: although half of the Austrian labour force are women, only 19.3 % of the employees in the energy sector are female (international average 25 %). With increasing responsibility of the position, this share decreases to 11 %.
Within the framework of the C3E International initiative, various measures have taken place in Austria in the last two years to connect women in energy professions and to promote their exchange of information and transfer of knowledge. Especially through the Energy Breakfast event series, which was commissioned by the Federal Ministry for Climate Protection, Environment, Energy, Mobility, Innovation and Technology (BMK). The Austrian Energy Agency organised and implemented the events.
The first Energy Breakfast in November 2020 was aimed primarily at female students from technical fields of study. The aim of the event was to connect them with representatives from research and business. During the event, participants were introduced to the C3E International initiative and various promotion offers, such as the FEMtech initiative and FEMtech internships. The four Austrian C3E ambassadors shared their personal and professional experiences.
The second Energy Breakfast in April 2021 aimed to introduce high school girls to the opportunities they have in the climate, energy, research and innovation sectors, helping them to consider future career paths. The event was an exchange between female pupils, university students and representatives from the public sector, energy companies and the scientific community to interactively demonstrate to young women what a career in the energy sector holds for them and what paths are open to them.
The last event in December 2021 focused on concrete approaches for women to break through the "glass ceiling".
Austria has a lot of catching up to do in terms of equality
"After decades, inequality is unfortunately still a highly important issue," Maria-Elisabeth Pösel, Deputy Head of the Section for EU Affairs and International Affairs and Chair of the Working Group for Equal Treatment Issues at the Federal Ministry for Climate Protection, confirmed during her welcoming statement at the last event. "We need a consistent approach to have women in leadership positions as well. To achieve a change in thinking, we need a women's quota and a national equality plan. Only then can we achieve substantive equality instead of formal equality."
With or without a women's quota: filling panels according to subject expertise instead of positions
Theresia Vogel, Managing Director of the Climate and Energy Fund, like Pösel, is in favour of the women's quota: "The quota is good at the beginning because it is a benchmark for the companies. In practice, however, the challenge is often different: We still see male-dominated panels. Sometimes it's hard to create diversity when you fill by position. But panels don't always have to be filled with CEOs. One solution could be to staff by subject expertise."
Part-timers deserve exciting projects too
One of the biggest hurdles is still the compatibility of family and career. Elisabeth Spitzenberger, Head of Technical Management at Energie AG Upper Austria, speaks of the "part-time trap" in this context: "In reality, women often do not get exciting projects when they are in part-time employment. But what's wrong with giving a 20-hour employee a good project? Someone with a 40-hour week is more likely to juggle other projects on the side. We no longer have the luxury of making the gender distinction. Time is running out".
Flexible working hours and home office arrangements can promote compatibility of family and career
Stephan Sharma, CEO of Energie Burgenland, also sees the necessity: "The fight against climate change is the greatest challenge humanity faces and it will not be solved by men alone. There is absolutely no alternative: we need women, we need young people, we need diversity. Flexible home office arrangements are now a reality that can support women in balancing job and family." Sandra Maurer, Managing Director of Energie Steiermark Service GmbH, ties in with this: "More perspectives through the participation of men and women mean a greater variety of decision-making options. However, this requires flexibility and organisation in order to reconcile job and family."
Regular exchange, feedback and networking
In this context, women's networks help to create visibility for women and companies. Networking is promoted, current topics can be discussed together and information about open jobs can be provided. In the energy and technology sector in Austria, these are WIMEN, OVE-Fem, GWNET, INNOVATORINNEN and also C3E International, among others. Networks are a useful addition to strengthen the exchange. But women can also be consciously promoted in everyday work: Those women who have contributed significantly to the success of the project in the background should also be brought before the curtain. An open feedback culture is crucial.
It also remains the responsibility of women themselves
With unequal treatment, however, we are not only talking about a structural problem that must be solved by politics and companies. A change in thinking is also required on the part of women themselves: "From my point of view, it takes stamina, frustration tolerance and diplomacy to break through the glass ceiling," confirms Christine Materazzi-Wagner, Head of the Electricity Department at E-Control. "Energy affects all our lives, so decisions about it must be made jointly by men and women." Spitzenberger also confirms this: "It takes  courage to be clear and that has to be practised. We women often tend to talk down problems. We have to dare to speak the truth very clearly".
For more questions regarding the Austrian activities within the C3E Initiative, please contact: