The third Equality in Energy Transitions Initiative Awards were brought to you in partnership with Natural Resources Canada and Women in Renewable Energy (WiRE) Canada. The Award winners were announced during the first Global Energy Action Forum, a joint convening of the 13th Clean Energy Ministerial and the 7th Mission Innovation ministerial, hosted by the United States of America in September 2022 in Pittsburgh. 
This year's Awards were presented by Joanna Osawe, President and CEO of Women in Renewable Energy (WiRE), during the "Women Empower the Energy Transition" side event, co-organized by the Equality in Energy Transitions Initiative, Gender and Energy Compact, and Hua Nani Partners.
The Equality Initiative Awards Program aims to increase awareness about strong women role models and their professional successes on a global stage. Similar to previous years, the third Equality in Energy Transitions Initiative Awards advocate for and highlight established women, as well as organizations, promoting women in the energy sector. However, this year's Awards Program also recognized and celebrated emerging women to inspire and attract more young women to careers in the energy sector and accelerate their advancement into leadership positions.
The 2022 Emerging Leader Award
Winner
Pooja Shah (she/her) is a senior consultant within DNV's energy storage emerging technologies advisory. She is passionate about advancing equity while addressing climate change. Her focus is on developing and implementing innovative and equitable solutions to accelerate the energy transition and decarbonize the energy and transportation industries.
Shah has worked on the engineering and design teams of some of the largest renewable energy projects in North America. At DNV, she leads owner's engineering work for energy storage and supports development and technical diligence services for energy storage, transportation electrification, and emerging technologies. She is actively involved in the community, serving on the Boys & Girls Club of Kansas City's Emerging Leaders Council, UnitedWE Kansas Public Policy Coalition and equitable: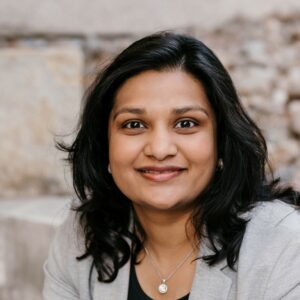 "I urge you all to continue making gender equity and social justice a priority. And I urge you to continue inspiring more women breaking barriers for them in the clean energy sector, and continue bringing more diverse voices into this conversation because it is critical that we do so right now." 
Climate Action KC's Equity and Policy Advisory committees. Shah also volunteers with Global Women's Network for the Energy Transition (GWNET) and Women of Renewable Industries and Sustainable Energy (WRISE). She was a Fellow with the Clean Energy Leadership Institute (CELI) in 2021 and is currently part of the fellowship leadership team.
During her acceptance speech, Shah mentioned that growing up in India, she is not unfamiliar with the impacts of climate change and has lived through extreme weather events, poor air quality, and power outages. In 2010 when graduating high school, she experienced extreme temperatures and connected the dots in weather and climate change, as well as the impact it had on low-income households, especially women of color. Shah believes the transition to clean energy must be just and equitable.
The 2022 Woman of Distinction Award
Winner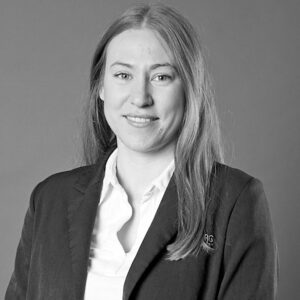 Sam Craft (she/her) started her career by taking up a volunteer administration role in the South Australia start-up National Renewables Group (NRG). In five years, Craft forged her way as a unique and remarkable leader in the renewable energy industry and became the director of energy in one of the largest providers of residential and commercial solar systems in South Australia.
Sam is a Board Member of the Smart Energy Council, founding member of Australian Women in Solar Energy (AWISE), an SA Power Networks Solar Industry group representative, and Committee Member for Solar Cutters.
As part of her acceptance speech, Craft said: "To any person looking to make a difference, my advice to you is to talk to a woman in your life, have an open conversation about gender equality and how we can bridge the gap in your workplace and life."
The 2022 Organizational Award
Winner
The Organizational Award, which recognizes an organization that has taken actions to recruit, develop and retain women within the clean energy sector, was awarded to the Energy Ministry of Chile. The Minister of Energy, Diego Pardow Lorenzo, accepted the award on behalf of the "hardworking civil servants who work at the Ministry of Energy of Chile" striving for gender equality at the Chilean Energy Ministry.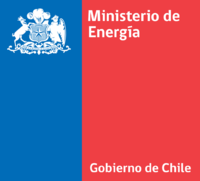 Chile's "Energia + Mujer / Energy + Women" conducted a survey that showed women's participation in leadership positions in the energy sector was only at 10%. Therefore, Chile is "passing legislation that will force corporations to have at least 30% of women on the board – it is not specific to the energy sector, but it includes all the companies that are working in the energy sector." The Chilean Ministry of Energy is also working with both the recently founded Gender and Human Rights Office and the local educational communities to raise awareness about the significance of women's participation in the energy sector.
Finally, Minister Lorenzo took the opportunity to announce that Chile is joining the Equal by 30 campaign of the Equality Initiative.
---
Download the 2022 Awards FAQ Document
Watch the 2022 Equality in Energy Transitions Awards Ceremony below – Part of the "Women Empower the Energy Transition" side event at the Global Clean Energy Action Forum (GCEAF) in Pittsburgh, September 23rd, 10:15 – 11:15 AM EDT (04:15 – 05:15 PM CEST)