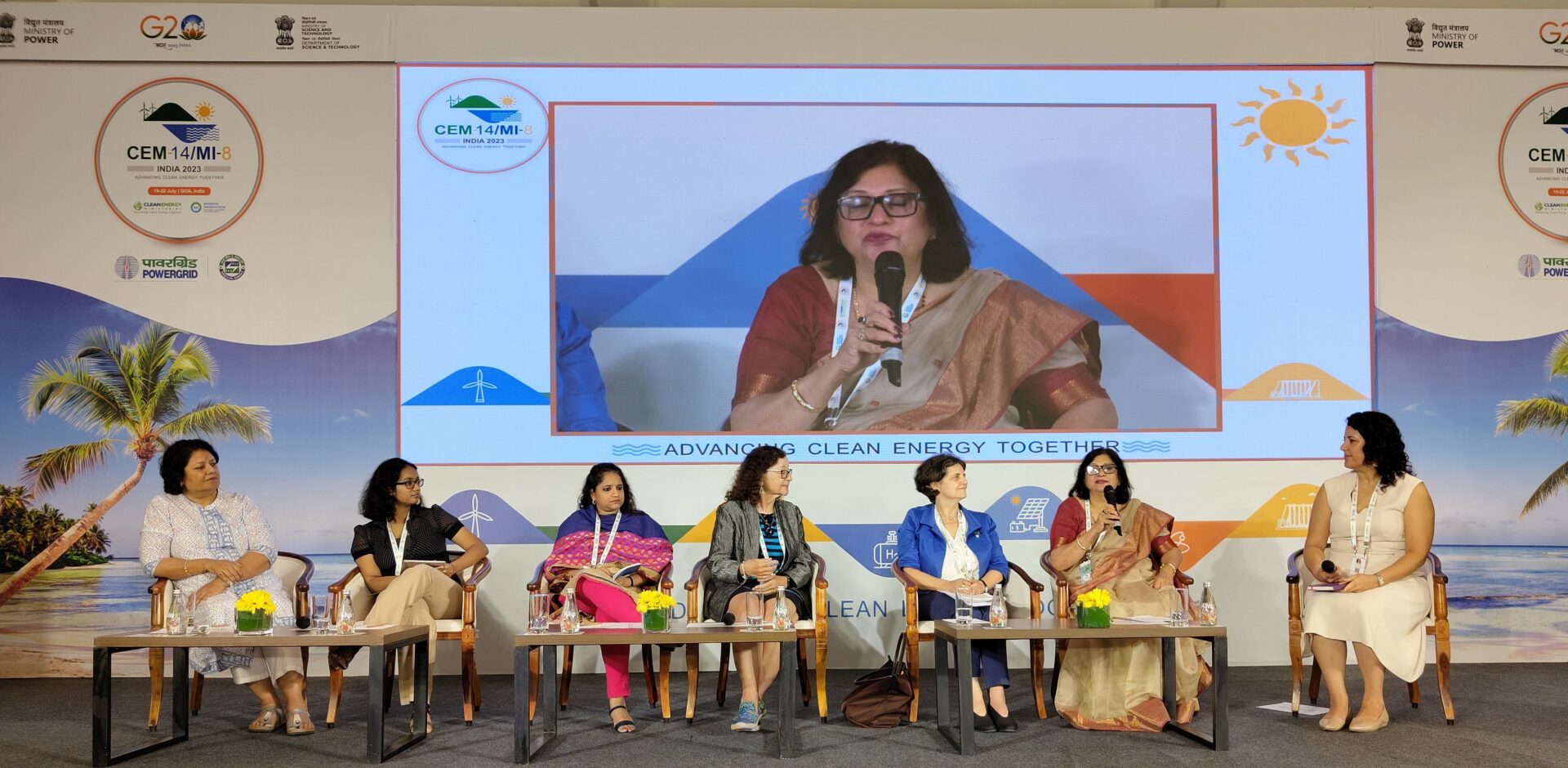 The 14th Clean Energy Ministerial and 8th Mission Innovation (CEM-14/MI-8) took place alongside the G20 Meeting in July 2023 in Goa, India. The theme of CEM14/MI-8 was "Advancing Clean Energy Together". As part of this event, the Equality in Energy Transitions organized a side event, "Igniting Change: Breaking Down Barriers to Gender Equality".
The speakers discussed the importance of gender equality and inclusivity in the clean energy transition. The underrepresentation of women in the energy sector and the disparities and barriers they face, such as the gender wage gap, limited access to education and financing, and societal expectations, were highlighted. The speakers emphasized the need for international collaboration, data collection, and industry-wide actions to enhance diversity. They also stressed the importance of mentorship, creating supportive environments, and promoting women's voices and leadership in decision-making processes.
Ainsley Emerson, the Senior Director of Strategic Energy Policy at Natural Resources Canada, chaired the event. Emerson acknowledged that even though women play a crucial role in driving a just and inclusive energy transition, they are still underrepresented and face inequalities in the energy workforce.
Damilola Ogunbiyi, Special Representative of the UN Secretary-General and CEO for SEforALL, Co-Chair UN-Energy, discussed the importance of gender inclusivity in the energy transition. She highlighted the significant disparities in the energy sector, as there are 76% fewer women than men and women earn 15% less than men for the same jobs. Further, she shared a personal experience from Nigeria, where she implemented a clean energy program that required 40% women participation in companies. Despite initial resistance, over 100 women-led companies have emerged from this initiative, and they have made a positive impact on rural communities. Damilola Ogunbiyi emphasized the need to go the extra mile to give women opportunities and urged everyone to think about how they could affect someone's life, even if they may have never met that person.
Next up was Lee McDonough, who is the Director General, Net Zero, Nuclear and International at the Department for Energy Security and Net Zero (DESNZ). The importance of personal responsibility and taking action to address gender equality in the energy sector was emphasized. She discussed the lack of progress in achieving gender parity and representation in the UK's energy industry, citing statistics that show a slow increase in women in executive roles and board seats. The speaker called for more efforts to break down barriers and improve opportunities for women in the sector, including promoting STEM skills and raising awareness of green education and careers. McDonough stressed the need for data and industry-wide actions to enhance diversity.
Julie Cerqueira, Principal Deputy Assistant Secretary from the U.S. Department of Energy, Office of International Affairs, hosted the panel discussion. The panellists concluded of six women who were representing the youth, the business community, NGOs and governments. The panellists were given two questions:
Based on you professional and lived experiences, what persistent structural barriers have you identified that really hinder women's inclusion in the energy workforce?
How have these barriers impacted your access to opportunities and advancement in the sector or the women that you've seen in your community?
Gauri Singh, Deputy Director-General at IRENA, started the discussion in arguing that the mindset is a crucial issue, as it determines the values and biases passed down from family and society about the sectors women should pursue. She argued that instead of comparing the representation of women in renewable energy with conventional sectors dominated by men, there should be a focus on sectors like healthcare and education, where women have been able to make their mark and occupy leadership positions.
Ishita Yadav, South Asia Focal Point, SDG7 Youth Constituency, argued that "… no survey or analysis would be able to quite understand the complexity of some of the barriers that young women face right now. In order to achieve a robust transition in line with SDG7 targets, it is absolutely crucial to address these barriers to create a more equitable and supportive environment for women – especially in the clean energy workforce." Yadav addressed additionally that obstacles such as societal expectations, lack of mentoring and career development opportunities, and sexual harassment. The speaker called for gender parity in decision-making processes and networking opportunities, as well as a shift in societal expectations and gender norms to support women in pursuing careers in clean energy.
Ashta Gupta, Lead India Analyst and Coordinator from the International Enegry Agency (IEA), addressed the difficulty to fully understand the complexity of these barriers. It is crucial to address them in order to create a more equitable and supportive environment, especially in the clean energy workforce. Despite these barriers, Gupta encouraged women to speak up and find opportunities for growth and learning. Additionally, the importance of mentoring within organizations was highlighted as a way to support women and help them progress in their careers.
Jennifer Holmgren, CEO of LanzaTech, shared her personal journey of overcoming societal expectations as a woman in the STEM field. She emphasized the importance of having mentors to help women overcome barriers in their careers. The speaker also highlighted the need for women's voices to be heard in meetings and for leaders to actively include them in discussions. Additionally, she suggested creating an environment where men can also be caregivers, addressing a common challenge faced by women. By taking these actions, the speaker believes that women can be empowered to step forward and achieve their goals.
Barbara Kauffmann, Director for Employment and Social Governance from the Directorate General for Employment, Social Affairs and Inclusion, European Commission, discussed the low representation of women in the energy sector. The lack of women in technical jobs is attributed to societal and cultural gender norms as well as narrow educational opportunities. Even when women possess the necessary skills, there are still hurdles such as gender biases in recruitment and promotion, leading to a lack of women in senior positions. To address these issues, the speaker called for equal pay, mentoring, and support for women, as well as efforts to close the gender gap in digital and green skills through policy initiatives.
Vibha Dhawan, Director General, TERI, discussed the responsibility of society to address the needs of women. She highlighted the lack of woman-centric development in various sectors, such as agriculture and transportation, which limits women's participation and decision-making. The speaker emphasized the importance of education and economic empowerment for women and suggested that schemes and initiatives should be designed to be woman centric. She also mentioned the need for mass awareness and incentives, such as carbon credits, to encourage women to use cleaner fuel and improve their overall well-being.
The panel concluded with appreciation for the speakers' inspiring personal stories and a call for intention in promoting women.
Jean-Fancois Gagné, New Head of the Clean Energy Ministerial Secretariat, emphasized the importance of inclusivity and gender equity in the workforce, stating that energy transition requires a qualified and talented workforce. Gagné also acknowledged the role of men in driving gender equality and express pride in their own role as a father, sharing that their daughter is pursuing aerospace engineering. Overall, the significance of Canada's leadership and the need for inclusivity and gender equity in achieving successful energy transitions was highlighted.
Frank Des Rosiers, Assistant Deputy Minister Natural Resources Canada, stated that Canada has made commitments to gender parity in its government, with a significant number of female executives and cabinet members. The government has also implemented initiatives such as affordable childcare and gender-based analysis in policies and programs. Through these efforts, Canada aims to create a difference across various sectors and promote equality. Rosiers discussed the launch of the Equal by 30 Campaign, which aims to address the significant gender gap in the energy space. The campaign has gathered close to 200 signatories, including G7 countries, sub-national governments, private sector firms, NGOs, and youth organizations. Each signatory has committed to their own targets and objectives to drive progress forward. The campaign not only sets targets but also encourages dialogue, webinars, conferences, and in-person events to share experiences and ideas.
Anita Gupta, Head and Adviser, Climate Change and Clean Energy, Department of Science and Technology, Government of India, highlighted positive trends within the government of India, such as increased representation of women in leadership positions and efforts to address the leaky pipeline issue in STEM careers. The government has implemented programs aimed at promoting women in science and engineering, as well as enhancing the participation of women in fields like engineering. Gupta also emphasized the contribution of female scientists and engineers to India's recent moon mission and the success of women-led startups in industries like aerospace and healthcare. Furthermore, the government has implemented proactive policies, such as mandating at least one female director in certain companies and offers six months of maternity leave. The speaker concluded by emphasizing the importance of diversity in the evolving clean energy sector.