As part of the C3E Ambassador & Mentorship workstream we are launching our new" Women's Clean Energy Wednesday" ambassador series with international spotlight on Rwanda. The US team, on behalf of the Ambassadors Program for C3E International, has been working on an exciting webinar in partnership with the United States Agency for International Development's (USAID) Power Africa initiative to present Women's Clean Energy Wednesday: International Spotlight on Rwanda.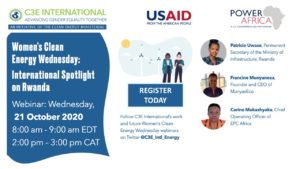 Date: Wednesday Oct 21st
Time: 8:00 am – 9:00 am EDT/ 2:00 pm – 3:00 pm CAT
Registration Link: https://register.gotowebinar.com/register/8094088242920412432
Webinar Flyer: WCEW Rwanda
The conversation will feature speakers discussing the many ways women are at the helm of Rwanda's clean energy transition, actively working towards the target of providing universal access to electricity by 2024 through on and off-grid energy solutions. Rwanda is meeting the challenge of energy access head-on, and women are at the helm of some of the most innovative companies and government institutions in charge of the country's energy development.
Speakers will include:
Patricie Uwase, Permanent Secretary of the Ministry of Infrastructure, Rwanda;
Francine Munyaneza, Founder and CEO of MunyaxEco;
Carine Mukashyaka, Chief Operating Officer of EPC Africa;
Dr. Rita Baranwal, Assistant Secretary for Nuclear Energy at the US Department of Energy (DOE) and US C3E International Lead; and
Suzanne Jaworowski, Consultant for the IAEA and former C3E International Vice Chair.
Senator Lisa Murkowski, a US C3E International Ambassador as well as the Chairman of the Senate Energy and Natural Resources Committee & Senate Appropriations Interior and Environment Subcommittee, was kind enough to send a quick welcome video highlighting energy vulnerability and unreliable access to electricity – we look forward to viewing it on the 21st. The Q&A session will be moderated by our very own Loreto Rivera Torteroglio, a C3E International Ambassador from Chile.