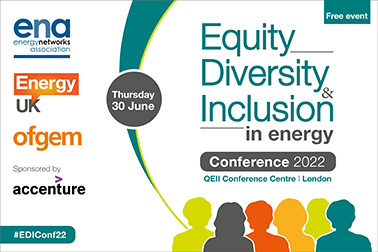 Energy UK, Ofgem and Energy Networks Association (ENA) are pleased to announce registration is now open for industry's flagship Equity, Diversity and Inclusion (EDI) Conference.
Now in its third consecutive year, the one-day conference will take place on June 30th in person at the QEII Conference Centre in Westminster, London, with options to join remotely online.  It is free to attend.
Sponsored by Accenture, the event will bring together leading professionals from across the energy industry and provide a platform to share knowledge, experience and best practice to drive lasting change in the sector and beyond. Keynote speakers include:
Jonathan Brearley, Chief Executive Officer, Ofgem
Peter Emery, Chair of DE&I Committee, Energy Networks Association and Chief Executive Officer, Electricity North West
Bobbi Pickard, Chief Executive Officer, Trans in the City
Melanie V. Eusebe MBE, I&D Lead for Accenture Europe and UK and Founder of the Black British Business Awards
To ensure the objectives of the conference continue to remain a priority, an EDI Taskforce of changemakers across the energy industry will be launched at the event. Its aim will be to combine cross-sector EDI insights and evidence to drive an industry-wide approach to diversity within energy. The Taskforce will be launched with some members already in place, along with an open call for nominations for the remaining places. It will report to the three partner CEOs to ensure robust outcomes, and interactive sessions at the conference will feed into shaping the work of the taskforce further. More details on the Taskforce and conference programme will be released soon.
Register to secure your place here.